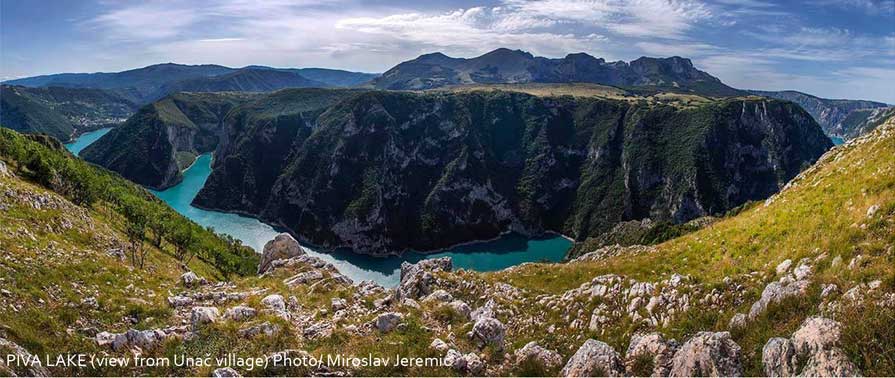 PIVA is situated in the north-western part of Montenegro and its territory is divided by European route E 762. Its administrative centre Plužine, a small town with a population of 1,500 inhabitants, is located on the 110th kilometre north of Podgorica and 130 kilometres south of Sarajevo. This is a mountain region intersected with the canyons of Piva, Tara and Komarnica. For a long time now, Piva has attracted nature lovers from all over the world. Prutaš, Sedlo and Bobotov kuk (the peaks of Durmitor), Skrčko, Trnovačko and Stabanjska lakes have become 'holy' places for ex-Yugoslavia mountaineers and hikers. The Tara canyon is well-known for its beauty and depth. Wild, clean water of the river has been giving an unforgettable experience of rafting for decades. The most beautiful part of the canyon of the river Komarnica called Nevidio ('never seen') offers canyoning adventure for the most courageous.
Car or motorbike rides through the Piva canyon-through almost 50 tunnels, over one of the highest concrete dams in the world or across Durmitor- are experiences captured on hundreds of Youtube videos taken by tourists who have visited Montenegro. A famous magazine about cars Top Gear made a story about these roads as a special treat for really adventurous drivers. For years the road from Trsa to Žabljak has been one of the most attractive ones in European magazines for bikers. Besides people who enjoy extreme and adrenalin sports and adventure, Piva has been visited by those who want to feel the peaceful life far from the city noise and crowd. Nice and simple life with the taste of home-made food and drinks, the smell of mountains and clear waters is an excellent way to 'recharge your batteries' and then go back to the real world.
The position and climate of this part of Montenegro have caused the particular characteristics of plant and animal species here. The products taken directly from the nature or grown on small farms have been appreciated by true gourmets for a long time. Piva's skorup (unique dairy product), trout, lamb, honey, potatoes… are just some of the products which are the synonym of highest quality. Made in healthy environment and prepared in a traditional way, these products represent joy for all senses. Piva's skorup is made of milk of Piva's sheep species called pramenka. The specific taste of the skorup is due to rich pastures of the Piva mountain and the specific way of preserving it. Delicious and rich in calories, skorup is a treat just with home-made bread, let alone with old dishes such as kačamak, cicvara or roast trout.
It is said that in the past Piva was famous for milk and honey. Milk was delivered from the mountain pastures to the town at the foot of the mountain by special tubes. The milk which was literally flowing from the mountains was used in construction for connecting stone blocks. Honey has been collected from meadows of Piva's mountain for ages. Medovina (honey wine) will take you back to the past with its seductive and refreshing taste and while you are sitting together with the guests from all over Europe, it will remind you of the ancient times when the Celts and Slavs met in this part of the world.
Piva's rooster Fisher with its particular colour and feather shine has attracted fishermen who go fishing on wild waters. These feathers make an excellent fish bait for river fishing called fly fishing which is becoming more and more popular nowdays. The feathers are 'picked' in the early January because this is when they have the optimal shine. This rooster is an exceptional example of mimicry as it was noticed that if the rooster changes the environment, its feathers lose its quality. The legend says that the rooster even becomes mute, as if its beauty was strongly connected to its native land.
The remains of fortresses, churches and monasteries, a few necropolis with stone tombs are the testaments of the history of a new era. There are nearly 700 stone tombs from the 14th and 15th century preserved in the region of Piva. The necropolis on Soko Grad, not far away from Šćepan polje and near the re-built monastery Zagrađe, is suggested for UNESCO list of world heritage sites of this part of ex-Yugoslavia territory. Piva is the place that offers traces and evidence of existence and development of human communities for almost ten thousand years of pre-history.
One of the central parts of these ancient communities was the cave Odmut which was near the spot where the river Vrbnica flowed into the river Piva. Today the cave is buried deeply under the surface of Piva lake but there are numerous historical objects kept in National Museum in Cetinje. Some of them, like fishing gear, are very rare for this period and can give us the idea of how 'pre-Piva' people lived.


PIVA se nalazi na sjevero-zapadu Crne Gore. Danas teritoriju Pive dijeli medjunarodni put E762, a njen administrativni centar Plužine, gradić sa oko 1500 stanovnika, se nalazi na 110-om kilometru sjeverno od Podgorice i 130 kilometara južno od Sarajeva.
Piva je planinska oblast ispresijecana kanjonima Pive, Tare i Komarnice. Već duže vrijema je magnet za ljubitelje prirode iz čitavog svijeta. Prutaš, Sedlo i Bobotov kuk (vrhovi Durmitora), Škrčko, Trnovačko i Stabanjska jezera su , odavno, ˝sveta mjesta˝ planinara i hajkera iz zemalja bivše Jugoslavije. Kanjon Tare je nadaleko poznat po dubini i ljepoti, a decenijama već, divlja i čista voda rijeke je mjesto nezaboravnog iskustva raftinga. Komarnica u svom dijelu kanjona, zvanom Nevidio, nudi kanjoning, adrenalinski izlet i avanturu na koju su spremni samo najhrabriji.
Vožnja automobolim ili motorciklom kroz kanjon Pive, kroz 50-ak tunela i preko jedne od najviših betonskih brana na svijetu, ili panoramskim putem preko Durmitora su doživljaji koji su zabilježeni na stotinama YouTube snimaka turista koji su posjetili Crnu Goru. Čuveni auto magazin Top gear je takodje, napravio reportažu o ovim putevima, kao pravoj poslastici za vozače avanturiste. Put od Trse do Žabljaka je već godinama u vrhu liste najatraktivnijih puteva u evropskim bajkerskim magazinima.
Osim ljubitelja avantura, ekstremnih i adrenalinskih sportova, Pivu sve više posjećuju i oni koji hoće da iskuse spokojan život daleko od gradske vreve, buke i imperativa modernog vremena. Život lijep i jednostavan, a začinjen ukusima domaće hrane, pića i mirisima planina i bistrih voda je dobar i brz način ˝punjenje baterija˝ za povratak u stvaran svijet.
Geografski položaj, reljef i klima ovog dijela Crne Gore su uslovile i specifičnost mnogih biljnih i životinjskih vrsta ovog kraja. Proizvodi dobijeni direktno iz prirode ili uzgajani na brojnim malim farmama ili poljoprivrednim gazdinstvima, kod pravih gurmana odavno su na cijeni. Pivski skorup , pastrmka , jagnjetina, med, krompir....samo su neki od proizvoda koji podrazumijevaju vrhunski kvalitet. Proizvedeni u zdravom okruženju i pripremljeni na tradicionalan način, predstavljaju užitak za sva čula.
Pivski skorup se skuplja od mlijeka Pivske pramenke, autohtone vrste ovaca. Specifičan ukus mu daju bogati pašnjaci Pivske planine i poseban način i uslovi sazrijevanja i čuvanja. Vrlo kaloričan i ukusan, predstavlja poslasticu namazan samo na hljeb iz furune, a tek kao dodatak starim jelima poput kačamaka i cicvare ili pečene pivske pastrmke.
U nekim istorijskim spisima Pivu pominju kao mjesto u kome ˝teče med i mlijeko˝. Da je to više od bajkovite predstave govore nam i ostaci mljekovoda kojima je dopremano mlijeko sa planinskih pašnjaka do gradskih utvrda Taban Grada (na mjestu današnjeg sela Stabna), jednog od centara srednjovjekovne Pive. Kažu da je mlijeko, koje je zaista teklo sa planine, služilo za spravljanje maltera kojim su vezivani kameni blokovi. O drugom dijelu ove izreke danas nam svjedoče sve brojni pčelinjaci ili ˝uljanici˝ , kako se govorilo u ovom kraju i na daleko poznat med koji je skupljen sa cvjetnih livada pivskih planina. Medovina (vino od meda) nas, svojim zavodljivim i osvježavajućim ukusom može vratiti u stara vremena i podsjetiti na priče naših djedova i baka po čijim receptima je i danas pravimo. U društvu sa gostima koji dolaze iz cijele Evrope, može nas podsjetiti na ona još davnija vremena kada su se na ovim terenima sretali Kelti i Sloveni .
Pivski pijevac Ribar, svojom karakterističnom bojom i sjajem perja, privlači pažnju ribolovaca, poklonika ovog sporta na divljim rijekama. Takozvanom berbom perja iz vratnog dijela obezbjedjuje se materijal za izradu najkvalitetnijih mamaca (mušica) za rječni ribolov, danas sve popularniji, fly-fishing. Početkom januara perje ima optimalan sjaj i boju pa se tada i ˝bere˝. Pivski pijevac je izuzetan primjer mimikrije jer je primijećeno da ako promijeni sredinu perje gubi kvalitet, a legenda kaže da pijevac ostane i bez glasa. Kao da je svoju ljepotu vezao za postojbinu.
Ostaci utvrdjenja, crkava i manastira, nekoliko nekropola sa stećcima, svjedoče o istoriji nove ere. Na teritori Pive je sačuvano skoro 700 stećaka iz doba 14. i 15. vijeka. Jedna od nekropola, ne i najveća, na Soko Gradu, nedaleko od Šćepan Polja a neposredno pored obnovljenog manastira Zagradje, se nalazi na spisku kandidovanih nekropola sa dinarskog dijela teritorije bivše Jugoslavije, koje će ući u UNESCO-vu listu Svjetske baštine.
Takođe, Piva je mjesto koje nam nudi tragove i dokaze o boravku i razvoju ljudskih zajednica u rasponu od skoro deset hiljada godina praistorije. Jedno od središta ili polazišta tih drevnih zajednica bila je pećina Odmut koja se nalazila na mjestu na kome se Vrbnica ulivala u Pivu. Danas je pećina duboko pod površinom Pivskog jezera, ali su mnogi artefakti sačuvani i pohranjeni u Narodnom muzeju na Cetinju. Neki od njih, poput pribora za ribolov, su jako rijetki za taj period i mogu nam približiti predstavu o tome kako su živjeli ˝pra-Pivljani˝.